Belinda Sinclair
From RockyWiki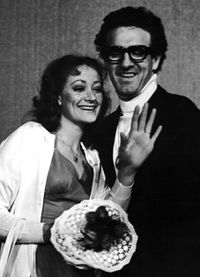 English actress Belinda Sinclair was born in London on September 16, 1950. She was trained as an actress with the Arts Educational Schools in London and had early success on the stage, most notably in the UK cast of Hair with several other original players in the London Cast of The Rocky Horror Show, including Richard O'Brien and John Sinclair. She won the role of Janet Weiss in original stage run at the Royal Court Theatre Upstairs after the original Janet, Julie Covington, was injured in an accident and had to leave the production.
Sinclair took over the role in time to be featured on the 1973 Original London Cast Soundtrack Album, which was produced in the recording studio owned by her "Hair" cast-mate, John Sinclair. A 1975 recording of Sinclair singing Touch-a, Touch-a, Touch-a, Touch Me mixed by John Sinclair and Andrew O'Bonzo was released released as a single in 1975 (with an instrumental B-SIde of the song) listing the artist name as Binzi. It was reissued in 1979 with a new picture sleeve as "Janet from The Rocky Horror Show" by Rich Teaboy Productions backed with The Richard O'Brien Crusade's version of "Over At The Frankenstein Place" from the Kimi and Ritz sessions.
Sinclair has an impressive list of UK television programs as well as stage productions to her credit.