Cliff DeYoung
From RockyWiki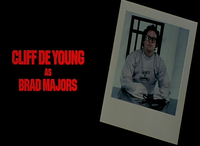 Cliff DeYoung is an American actor. His best known to fans of The Rocky Horror Picture Show as Brad Majors and Farley Flavors in the Rocky Horror follow-up, Shock Treatment.

Clifford Tobin De Young was born on February 12, 1945 in Los Angeles, California. He was the lead singer of the late 1960s rock band Clear Light, which played with such artists as The Doors, Jimi Hendrix and Janis Joplin. After the band broke up, he starred in the 1970 Broadway production of "Hair," a common thread for many of the original Rocky Horror cast members. After four years in New York, he came back to California and starred in the 1973 television movie Sunshine (which used the John Denver hit as its theme song). His rendition of Denver's "My Sweet Lady" from the soundtrack of the telefilm reached #17 on the Billboard Hot 100 pop charts in early 1974 and led to a short-lived series of the same name in 1975.
DeYoung has appeared in more then 100 films and television series, and was seriously considered for the role of Brad in The Rocky Horror Picture Show before fellow Broadway actor Barry Bostwick was ultimately chosen for the part.

On Screen Credits
2016 Reality Queen! - Joe Logo
2015 Togetherness (TV Series) - "Houston, We Have a Problem" - Bob
2014 Wild - Ed
2010 Road to Nowhere - Cary Stewart / Rafe Taschen
2009 In Plain Sight (TV Series) One Night Stan" - Chief Inspector Malone
2008 Grey's Anatomy (TV Series) "Dream a Little Dream" of Me (2008)- Phillip Loomis
2008 Solar Flare - Dr. Kline
2008 2012 Doomsday (Video) - Lloyd
2008 Stone & Ed - Mr. Schwartz
2007 The Young and the Restless (TV Series) episodes 1.8695-8698 - Agent John Bonacheck
2006 The Hunt - Jon Kraw
2006 Just Legal (TV Series) "The Rainmaker" - Michael Kale
2006 The Unit (TV Series) "Non-Permissive Environment" - C.O.S.
2005 Threshold (TV Series) "The Burning" - Charlie Miller
2005 Alias (TV Series) "The Road Home" - Connelly
2002-2004 Girlfriends (TV Series)"Who's Your Daddy?" (2004), "Don't Leave Me a Loan" (2002) - Ed Searcy
2004 Love's Enduring Promise (TV Movie) - Zeke
2004 Jack & Bobby (TV Series) episode: "Valentino" - Mr. Truggman
2004 Last Flight Out Tony Williams
2003 10-8: Officers on Duty (TV Series) "Mercy, Mercy Me" - Wilgis
2003 Crossing Jordan (TV Series) "Dead Wives' Club" - Dr. Cassidy
2003 Touched by an Angel (TV Series) "Virtual Reality" - Charles Jackson
2002 CSI: Crime Scene Investigation (TV Series) "Revenge Is Best Served Cold" - Mr. Del Nagro
2002 Almost a Woman (TV Movie) - Mr. Burnett
2002 The Secret Life of Zoey (TV Movie) - Larry
2002 Path to War (TV Movie) - McGeorge Bundy, National Security Advisor
2002 Gale Force (Video) - Stuart McMahon
2001 The West Wing (TV Series) "On the Day Before" - Rep. Kimball, D-TN
2001 The Guardian (TV Series) "The Men from the Boys" - Franklin Derwitt
2001 The Chronicle (TV Series) "Let Sleeping Dogs Fry" - Sheriff
2001 The District (TV Series) "Fools Russian: Part 2" - Vincent Gabriel
2000 The Runaway (TV Movie) - Harlan Davis
2000 Deliberate Intent (TV Movie) - Tom Kelley
2000 Harsh Realm (TV Series) "Camera Obscura" - Prince Stewart
2000 Getting Away with Murder: The Jon Benet Ramsey Mystery (TV Movie) - John Ramsey
1999 Nash Bridges (TV Series) "Goodbye Kiss", "Frisco Blues" - Rueben Banks
1999 Profiler (TV Series) "Grand Master" - Ronald Dain
1999 The Pretender (TV Series) "End Game" - Samson Dane
1999 The Last Man on Planet Earth (TV Movie) - John Doe
1998 V.I.P. (TV Series "Deconstructing Peri" - Senator Barton Spencer
1995-1998 JAG (TV Series) "A New Life: Part 1 & 2" (1995), "Defensive Action" (1996), "Gypsy Eyes" (1998) - Chuck DePalma
1998 Melrose Place (TV Series) "The Nasty Minded Professor", "M.P. Confidential", "Four Affairs and a Pregnancy" - Dr. George Larner
1998 The Magnificent Seven (TV Series) "Inmate 78" - Sheriff Quince
1998 The Practice (TV Series) "Burden of Proof", "Truth and Consequences", "Line of Duty" - Atty. West
1997 The Last Don (TV Mini-Series) - Senator Warren Wavven
1995-1997 Diagnosis Murder (TV Series) "Fatal Impact: Part 1& 2"- Lyle Guthrie, "How to Murder Your Lawyer" - Jeffrey T. Canfield
1997 Cracker: Mind Over Murder (TV Series) "Lemmings Will Fly" (1997) - Mr. Lang
1997 Timecop (TV Series) "Stalker" (1997) - Detective Rick Nolte
1997 The Westing Game (TV Movie) - Jake Wexler
1997 Pacific Blue (TV Series) "Excessive Force" - David Mallory
1997 Suicide Kings - Marty
1997 George Wallace (TV Movie) - Dr. Jeff McKinney
1996 1997 Relativity (TV Series) - David Lukens
1996 The Craft - Mr. Bailey
1996 The Substitute - Matt Wolfson
1996 Andersonville (TV Movie) - Sgt. John Gleason
1996 Seduced by Madness: The Diane Borchardt Story (TV Mini-Series) - Det. Burstyn
1996 Nowhere Man (TV Series) episode "Stay Tuned" - Jim Hubbard
1995 Courthouse (TV Series) "Conflict of Interest" - Eric Pavey
1995 An Element of Truth (TV Movie) - Norm
1995 Lois & Clark: The New Adventures of Superman (TV Series) "The Return of the Prankster" (1995) - Special Agent Carrigan
1995 Carnosaur 2 - Maj. Tom McQuade
1994 Terminal Voyage - Granier
1994 RoboCop (TV Series) "Public Enemies", "Trouble in Delta City", "The Future of Law Enforcement: Part 1 & 2" (1994) - Dr. Cray Z. Mollardo
1994 Heaven & Hell: North & South, Book III (TV Mini-Series) - Gettys
1994 Revenge of the Red Baron - Richard Spencer
1994 Time Trax (TV Series) To Live and Die in Docker Flats - Burt Docker
1993 The Skateboard Kid - Big Dan
1993 Precious Victims (TV Movie) - Don Groshong
1993 The X-Files (TV Series) "Pilot" - Dr. Jay Nemman
1993 The Tommyknockers (TV Mini-Series) - Joe Paulson
1993 Star Trek: Deep Space Nine (TV Series) episode: "Vortex" - Croden
1992 Love Can Be Murder (TV Movie) - Brad Donaldson
1992 Dr. Giggles - Tom Campbell
1992 Nails (TV Movie) - Stambusky 1992 Criminal Behavior (TV Movie) - Darrel Smathers
1988-1992 Murder, She Wrote (TV Series) "Badge of Honor "(1992) - Mason Porter, "Coal Miner's Slaughter" (1988) - Carlton Reid, "Murder Through the Looking Glass" (1988) - Father Patrick Francis
1991 Immortal Sins - Mike
1991 The Trials of Rosie O'Neill (TV Series) "Dr. Psychedelic" - Crosby Bonner 1991 Crackdown Shaun Broderick
1991 N.Y.P.D. Mounted (TV Movie) - Capt. Smithers
1991 Fourth Story (TV Movie) - Darryl McCoughlin
1990 Flashback - Sheriff Hightower
1990 The Young Riders (TV Series) "Unfinished Business" - Evan Crandall
1990 Where Pigeons Go to Die (TV Movie) - Henry
1989 Forbidden Sun - Professor Lake
1989 Glory - Col. James M. Montgomery
1989 Rude Awakening - Agent Brubaker
1989 Simon & Simon (TV Series) "Photo Finished" -Tom Huntley
1988 Fear - Don Haden
1988 Dance 'Til Dawn (TV Movie) - Larry Johnson
1988 In Dangerous Company - Blake
1988 Pulse - Bill
1987 Beauty and the Beast (TV Series) "Dark Spirit" - Alexander Ross
1987 The Survivalist - Dr. Vincent Ryan
1987 Her Secret Life (TV Movie) - Paul Goodwin
1987 Matlock (TV Series) "The Court-Martial: Part 1 & 2" - Lt. Jim Lynch
1986 The Twilight Zone (TV Series) "The Road Less Travelled" - Jeff McDowell
1986 Walt Disney's Wonderful World of Color (TV Series) "Hero in the Family" - Digger Reed
1986 Flight of the Navigator - Bill Freeman
1986 F/X - Martin Lipton
1985 Tall Tales & Legends (TV Series) "Annie Oakley" - Frank Butler
1985 Secret Admirer - George Ryan
1985 Deadly Intentions (TV Movie) -Garner
1985 Robert Kennedy and His Times (TV Mini-Series) - John F. Kennedy
1984 The Leatherstocking Tales (TV Mini-Series) - Hawkeye / Natty Bumppo / Deerslayer
1984 Master of the Game (TV Mini-Series) - Brad Rogers
1984 Reckless - Phil Barton
1984 Access All Areas (Short)
1983 The Awakening of Candra (TV Movie) - Thomas Leslie Brown
1983 This Girl for Hire (TV Movie) - Lieutenant Phil Hansen
1983 The Hunger - Tom Haver
1983 Independence Day - Les Morgan
1983 An Invasion of Privacy (TV Movie) - Carl Slater
1981 Shock Treatment -Brad Majors / Farley Flavors
1980 Scared Straight! Another Story (TV Movie) - Paul
1980 Fun and Games (TV Movie) - Pete Dermot
1980 Family (TV Series) episode: Whispers - Alex Canfield
1979 The Seeding of Sarah Burns (TV Movie) - Tim
1978-1979 Centennial (TV Mini-Series) - John Skimmerhorn
1979 Once Upon a Classic (TV Series) "Leatherstocking Tales"
1978 King (TV Mini-Series) - Robert F. Kennedy
1978 Blue Collar - John Burrows
1978 What Really Happened to the Class of '65? (TV Series) "The Girl Who Always Said No" - Jon
1977 Sunshine Christmas (TV Movie) Sam Hayden
1977 The 3,000 Mile Chase (TV Movie) Matthew 'Matt' Considine / Marty Scanlon
1976 Captains and the Kings (TV Mini-Series) "Chapter VIII" - Brian Armagh
1975-1976 Insight (TV Series)"Rehearsal" (1976) - John Phillips, "Out of the Depths" (1975) - Joe
1976 The Lindbergh Kidnapping Case (TV Movie) - Charles Lindbergh
1975 The Night That Panicked America (TV Movie) - Stefan Grubowski
1975 Sunshine (TV Series) - Sam Hayden
1974 Marcus Welby, M.D. (TV Series)"Last Flight to Babylon" - Lenny Dalton
1974 Harry and Tonto - Burt Jr.
1973 Sunshine (TV Movie) - Sam Hayden
1973 Sticks and Bones (TV Movie)
1972 Pilgrimage - Garry
1970s The Secret Storm (TV Series) - Alden