Jeff "F**cking" Foss
From RockyWiki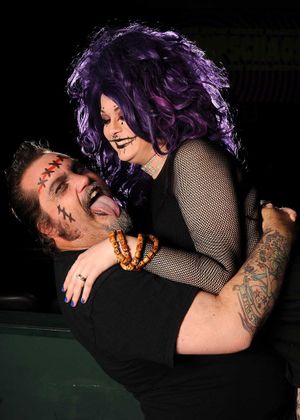 Jeff "F**cking" Foss is not an American Rocky Horror Legend nor do we ever think he will be (See what I did there?). Honestly what is a living legend anyway?! Sure, Richard, Pat, Nell, Tim of course, but us fans? Some of the shit we've done is probably legendary but we're not legends.

He has been been performing Rocky Horror for nearly three decades due to the lack of any other discernible talent or social skills. He has received no awards or adoration for this crap. Beloved by no one. Like many Rocky fans, performing at Rocky Horror was the only place he was semi-accepted and he pretty much had nowhere else to go.

Over the years he has entertained dozens of people (Source needed). He is living proof that despite years of hard work and perseverance in the Rocky Horror community that all that really matters is kissing up to others in the Rocky Horror community. That or play Frank or Magenta, they get more attention.

Founding member of South Pasadena's Voyeuristic Intention, which at the time seemed like a clever name, but really it was a pretty lame name.
Honors
No honors whatsoever. Well.... This one time he did win an autographed Los Angeles Dodgers baseball from Baskin Robbins, but when he got it the autographs were printed on the ball and not real signatures. I guess that doesn't count. Never mind.
Oh wait. He once got a letter published in Penthouse Forum.
Years Active:
1981 - 2000, 2006 - Current
When he was 11. She was a neighborhood girl named Amber Michelle. Hair as brown as a Hershey Bar, which she was eating while they had sex. He paid $5.
Early Life
Born a small child. His first memory of Rocky Horror was seeing a lobby card at a theater in Seal Beach, California and thinking it was some kind of XXX porno film. He was clearly wrong.
Rocky Horror Career
Originally slated to play Dr. Scott until the guy that was going to play Riff Raff didn't show up. This cruel twist of fate resulted in a long history of performing in Rocky Horror.

Favorite Addiction
Cocaine
Turn Ons
Happy people.
Walking on the beach.
To crush your enemies, to see them driven before you, and to hear the lamentations of their women.
Turn Offs
Happy people.
Anyone that considers themselves legendary.
MILF Porn.
Life's Ambition
To avoid sharting.
Performance Roles
Leadership Roles
Cast Affiliations
Conventions Attended
Convention Performances
15th Anniversary Convention ("The Master's Affair" at 20th Century Fox Studios, Los Angeles, CA) - October 20

Misc. RHPS Performances/Appearances
Featured in Creatures Of The Night: The Rocky Horror Picture Show Experience and Creatures Of The Night II: More Of The Rocky Horror Picture Show Experience by Sal Piro.
Showed up in People Like Us: The Cult Of The Rocky Horror Picture Show by Lauren Everett.
His Advice to You:
Learn to play music. Or paint. Or learn some skill that makes you happy. 30 years is too long to do this shit. Learn from my mistakes. Go out and spend your energy inventing something that helps mankind, like a kitchen sponge that won't stink after the first time you use it.
On Being a Cast Leader:
Being a cast leader is a thankless job. There's a huge difference between friend and friendly. None of those people are your friends if you choose not to cast them in the next show. Trust no one. Have someone taste your food.