Jill McManus
From RockyWiki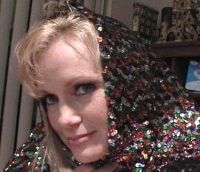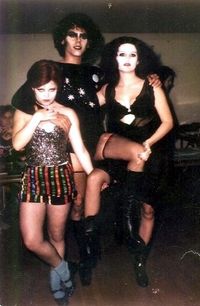 Jill McManus is American Rocky Horror Elder. Jill was a member of The Tiffany Troupe at the legendary Tiffany Theater in Hollywood, CA as Janet Weiss and more often as Magenta. She was a founding member of The Master's Affair in the San Fernando Valley, CA, and a founding performer at the Nuart Theater in Santa Monica, CA. Retiring from regular performing in 1986. In the early 2000's she joined the cast at the Rialto Theatre in Pasadena, CA, working behind the scenes with props and costuming. She performed in a couple of their pre-shows and guest performed with her best friend as Trixie twins. There were a few guest performances in the early 2000's as Trixie and Magenta for the L.A. casts of WUT and Sins O' The Flesh.
Cast Affiliations
Theaters Attended 1979-2016
United Artists Theatres Movies 5 At The Oaks - Thousand Oaks CA (1978 -1979)
Tiffany Theater, West Hollywood CA (1979-1983)

Baronet Theater - Woodland Hills CA (1983 - 1984)

Rialto Theatre, South Pasadena CA (1985. 2002 until closure)

The Queen Mary, Long Beach CA (2006 -2007)

Nuart Theater, West Los Angeles CA (1986 - Present)

Conventions Attended
1981: The Third Annual Transylvanian Convention (Anaheim, CA)
1982: ROCKY ALIVE (Hawthorne, CA)
1984: ROCKYCON '84 (Beverly Hills, CA)
1995: The Rocky Horror 20th Anniversary Celebration (Roxy Theatre, Pantages Theatre, Hollywood, CA)
2001: Frankie Goes to Hollywood (Los Angeles, CA)
2007: The Pirates of Transylvania (Queen Mary, Long Beach CA)
2013: I Survived the Tiffany Reunion - Tiffany Theater/Canters Deli (Los Angeles, CA)

Jill is featured in Creatures Of The Night: The Rocky Horror Picture Show Experience by Sal Piro.