Koo Stark
From RockyWiki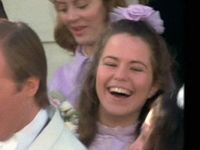 Koo Stark is an American actress. She plays an un-creditied bridesmaid to Betty Munroe Hapschatt in The Rocky Horror Picture Show.
Daughter of film producer Wilbur Stark, Koo Stark was born on April 26, 1956 in New York City, New York, USA as Kathleen Dee-Anne Stark. She became gossip-magazine fodder for her relationship with HRH Prince Andrew (Son of Queen Elizabeth ll) in the '80s, but she fell out of favour when her involvement in soft-porn films became known.
Stark went on to be a successful freelance photographer. After a battle with breast cancer in 2002 and 2003, Stark started a cancer awareness organization called, "Keep Abreast."
Stark has the distinction of being cut from two major pop-culture phenomenons; First, she was removed from a Dr Who story arc over a pay dispute, and then in 1977, she was cut out of Star Wars lV: A New Hope (the legendary missing "Biggs" scenes).
Filmography
1991: Cluedo (TV Series) - Miss Scarlett
1989: Red Dwarf (TV Series) - Lady Sabrina Mulholland-Jjones
1987: Eat the Rich - Hazel
1986: The Two Ronnies (TV Series) - Alice
1984: Electric Dreams - Girl in Soap Opera
1977: Marquis de Sade's Justine - Justine Jerome
1977: ITV Sunday Night Drama (TV Series) - Deborah
1976: The Awakening of Emily - Emily Foster
1975: Shades of Greene (TV Series) - Girl
1975: Las adolescentes - Ana
1975: The Rocky Horror Picture Show - Bridesmaid (uncredited)
1974: All I Want Is You... and You... and You... - Jennifer Ready (as Koo)