Lindsay Ingram
From RockyWiki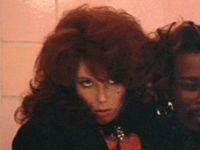 Lindsay Ingram was an English actress who appeared as a Transylvanian in The Rocky Horror Picture Show.
Ingram began her career as a stage actress in Sir Lawrence Olivier's Theatre company at the Old Vic in London. In 1972, she accompanied actress friend Diane Langton (who was also a member of the glam group Rock Bottom with Gaye Brown and Annabel Leventon) to an audition of Sam Sheppard's Tooth of Crime at the Royal Court Theatre. Although Richard Hartley passed on Ingram, he did cast Langton in the show, which also featured Richard O'Brien. As part of the same social and acting circle, Ingram was remembered when it came time to cast the Transylvanians in the The Rocky Horror Picture Show.
Ingram continued acting on stage and on the screen (including a cameo as an audience member in Shock Treatment). She later left the spotlight to teach acting and theater arts.
Ingram passed away in July 2017 after a long illness.
Filmography
1987: The Gemini Factor (TV Series) - Ruth's mother
1985: Plenty – Linda
1981: Tenko (TV Series) - Cynthia James
1981: Shock Treatment - Audience Member
1980: Play for Today (TV Series) - Marjorie
1974-1978: Crown Court (TV Series) - Rachel Lawton / Lillian White
1978: ITV Playhouse (TV Series) - Kate
1975-1977: Centre Play (TV Series) - Anne / Chrissie
1976: BBC2 Playhouse (TV Series) - Portia
1975: The Rocky Horror Picture Show - Transylvanian
1975: Within These Walls (TV Series) - Jo Roberts
1974: Rooms (TV Series) - Pam
1974: Comedy Playhouse (TV Series) - Iris
1974: Great Mysteries (TV Series) - Maria Perkins
1974: Butley - Female Student (uncredited)
1972: Adult Fun - Stockbroker's secretary