Rocky Radio
From RockyWiki
Rocky Radio is a podcast that started in 1998 as an offshoot of Cosmo's Factory.
Background
Jim "Cosmo" Hetzer had the idea of doing a weekly Rocky Horror news show and contacted his friend, Nathan Summers, a fellow cast member of The Denton Affair and local Cincinnati DJ to be the voice. Initially, the program ran only a few minutes and was done using Real Media. The first Rocky Radio was put online on October 26, 1998. The first show also had a speed issue on Nate's mic channel, causing his voice to be lowered a few octaves. This was not corrected, as it was not discovered in time of broadcast and has been left as is.
To date, Rocky Radio has put out 61 shows (including the live show and a show done on New Years that did not include Nate).
In 2006/2007, Kev J. Boycik became the third member of the "Rocky Radio Wrecking Crew".
Notable Interviews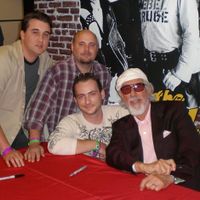 While there have been numerous guests on Rocky Radio, including Shawn Stutler, Larry Viezel, Kate V, Fred, Bill Brennan, "More Drunk" Brady Ferguson, etc., these shows are the most downloaded:
On June 7th, 1999, which was the 25th show, Cosmo and Nathan interviewed Richard O'Brien. In an outtake, it was discovered that someone in the studio accidentally disconnected the call. A video was later put up by the Vitus Brothers to celebrate the disconnect.
Recording
Initially, the show was recorded on a Fostex 8 channel reel-to-reel and then played into a PC, where it would be edited and saved in Real Audio format. The show is currently, and has been from the beginning, edited using Sony Sound Forge. Currently, the show is recorded and put out in MP3 format. Cosmo uses a Sennheiser E935 microphone and Summers uses a Blue Snowball microphone.
Format
Rocky Radio has seen various different formats over the years. From being a straight forward news program, to injecting more humor, like The Daily Show, to just having a free for all. Many people feel that the free for all format has been the most successful format used, so far.
References