Sue Blane
From RockyWiki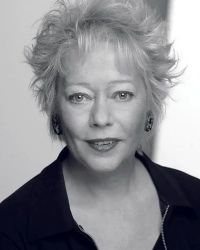 Susan Margaret Blane MBE (born April 23, 1949) commonly known as Sue Blane, was the costume designer for the 1973 production of The Rocky Horror Show and the following productions in Los Angeles, Australia and New York. She was also costume designer for the 1975 feature film version, The Rocky Horror Picture Show as well as the 1981 follow up film, Shock Treatment.
In the late '60s, Sue Blane studied costume design at Wolverhampton College of Art and Central School of Art and Design. In 1971, she went to work for the Glasgow Citizen's Theatre, where she designed the costumes for Lindsay Kemp's production of The Maids, starring Tim Curry as Solange — wearing a black corset. In 1973, she met director Jim Sharman, who was looking for a costume designer for a new, low-budget musical called The Rocky Horror Show that was being produced at the Royal Court's Theater Upstairs. Blane grabbed Curry's corset from the Citizen's Theatre, glued on sequins, and created Dr. Frank-N-Furter's first corset. Blane designed the costumes for the Roxy Cast in Los Angeles, the original 1974 Australian Cast production and the 1975 Broadway production of the play. Many theater and film projects followed including a revival of The Rocky Horror Show in 2006.
She received an MBE (Members of the Order of the British Empire) in 2006.
Stage Credits/Costume Designer
2006: Porgy and Bess (West End)
2006: The Rocky Horror Show (West End)
2005: Billy Elliot (West End - Replacement Costume Designer)
1997: Tanz der Vampire (West End)
1996: Guys and Dolls (West End)
1993: Cabaret (West End) Scenery/Costumes)
1990: Into the Woods (West End)
1982: Guys and Dolls (West End)
1990: Picadilly (West End)
1975: The Rocky Horror Show' Belasco Theatre , New York)
1974: The Rocky Horror Show Australian Cast
1974: The Rocky Horror Show Roxy Cast
1973: The Rocky Horror Show The Theatre Upstairs at the Royal Court Theatre, London)

Screen Credits/Costume Designer
2015: A Reel Life (costume design consultant)
2002 :Carmen (TV Movie)
1993: American Playhouse (TV Series) Porgy and Bess
1991: American Playhouse (TV Series) Into the Woods
1993: Cabaret (TV Movie)
1991: La fanciulla del West (TV Movie)
1988: Dream Demon
1986: Absolute Beginners
1986: Lady Jane
1981: Shock Treatment
1975: The Rocky Horror Picture Show (original costume design)
Convention Appearances
Transylvania 1999 (UK))
25th Anniversary Convention (Las Vegas, NV)
2001 Rocky Horror Vacation (Orlando, FL)
The Denton Convention (Shock Treatment's 35th Anniversary, London, UK)
External Links
Sue Blane Designs [1]