The Rocky Horror Picture Show 15th Anniversary Box Set
From RockyWiki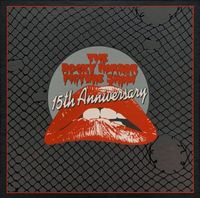 The Rocky Horror Picture Show 15th Anniversary Box Set
was a collection released by
Ode Sounds and Visuals
in 1990 that was distributed in the US by Rhino Records on CD and cassette for the 15th Anniversary of the release of
The Rocky Horror Picture Show
. The collection contained 4 discs (or cassettes):
The Rocky Horror Picture Show Original Soundtrack Album,
The Original
Roxy Cast
Album plus two unique and new compilations that appeared only in the set. The box was in 12" x 12" format, and came with a colorful booklet with liner notes, photos and a special note written by
Richard O'Brien
.
Rocky Horror International (A Collection Of Rocky Horror Tracks From Around The World) put together all the songs on the soundtrack in their original order, taken from other cast albums. At the time, much of the material was scarce. As a nod to fans, two songs that had been left off the original Movie soundtrack LP were included for the first time anywhere; "The Sword Of Damocles" and "Planet, Schmanet, Janet" plus the legendary, cut-from-the-movie "Once In A While", performed by Barry Bostwick. Before the release of the 15th Anniversary Box Set, "Once in A While" was only rumored to exist. At the time of the set's release, none of the songs included had appeared on vinyl or CD.

Songs From The Vaults (A Collection Of Rocky Horror Rarities) was a compilation of rarities from the cast members. Songs from Shock Treatment were also included, as the LP was long out of print and had not yet been issued on CD. Four solo tracks recorded by Tim Curry in the mid-70s from what would have been his first LP, had it been released. The songs "Baby Love" and "Just 14" had been released as a single on Ode Records, though had extremely limited reach. Early singles by Kimi and Ritz (Richard O'Brien and then wife, and Transylvanian, Kimi Wong) were intended to be included, but were denied by their license holders.

Lou Adler oversaw the project as Executive Producer. Howard Frank produced the set, and Lisa Kurtz Sutton served as Art Director for the package, and also wrote the liner notes and complied the two rarities collections. The fishnet background on the box front and throughout the box were a Photostat of her first pair of fishnets that she wore as a cast member of The Rocky Horror Revue and The Tiffany Troupe during the 1970's. A large 12' x 12' image of the cover art was displayed in front of Tower Records on the Sunset Strip for close to two months in fall of 1990, to advertise the release.
Contents
Disc 1/ Tape 1: The Rocky Horror Picture Show Original Soundtrack Album
Disc 2/Tape 2: The Rocky Horror Show - Original Roxy Cast

Disc 3/Tape 3: Rocky Horror International (A Collection Of Rocky Horror Tracks From Around The World)
Mexican Cast - "Un Relato Bien Extraño Y Muy Pasado" (from "Julissa" - El Show De Terror De Rocky)
New Zealand Cast - "Dammit, Janet!"
Norwegian Cast - "Alltid Lys Hos Frankenstein" (from Norsk Version)
Original London Cast - "The Time Warp"
Original London Cast - "Sweet Transvestite"
The Rocky Horror Picture Show Cast - "Sword Of Damocles"
New Zealand Cast - "I Can Make You A Man"
Mexican Cast - "¿Que Le Ha Pasado El Sabado?" (from "Julissa" - El Show De Terror De Rocky)
Norwegian Cast - "Muskellmann Sangen (Reprise)" (from Norsk Version)
Mexican Cast - "Toca Toca Toca Toca"
The Rocky Horror Picture Show Cast - "Once In A While"
Say It! The Rocky Horror Picture Show Audience Participation Album - "Eddie's Teddy"
The Rocky Horror Picture Show Cast - "Planet Schmanet, Janet"
Floor Show:
Original London Cast - "Rose Tint My World"
Original London Cast - "Don't Dream It, Be It"
Original London Cast - "Wild And An Untamed Thing"
Original London Cast - "I'm Going Home"
Australian Cast - "Super Heroes"
Mexican Cast - "Un Relato"
(from "Julissa" - El Show De Terror De Rocky)
Disc 4/Tape 4
Songs From The Vaults (A Collection Of Rocky Horror Rarities)
Various - The Rocky Horror Picture Show Movie Trailer"
Tim Curry - "Baby Love"
Richard O'Brien (as Riff Raff) - "Rocky Horror Radio Commercial"
Little Nell - "See You 'Round Like A Record"
Richard O'Brien (as Riff Raff) - "Rocky Horror Radio Commercial (Belt You About The Mouth)"
Tim Curry - "Just 14"
Shock Treatment Cast - "Denton U.S.A."
Little Nell - "Do The Swim"
Tim Curry - "Biting My Nails"
Richard O'Brien - "Shock Treatment" (single version)
Little Nell - "Fever"
Tim Curry - "We Went As Far As We Felt Like Going"
Shock Treatment Cast - "Little Black Dress"
Little Nell - "Beauty Queen"