Trixie
From RockyWiki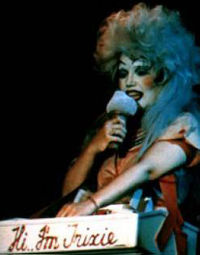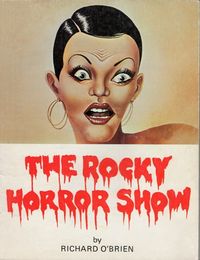 Trixie is the name given to the Usherette, a character originated by Patricia Quinn in the original 1973 London Cast Royal Court Theatre production of The Rocky Horror Show, originally produced in the theater's second space known as The Theater Upstairs. The Usherette sings the opening number from the show, "Science Fiction, Double Feature", and the closing number "Science Fiction, Double Feature (Reprise)". The script is vague in regards to this character, referring to her as "Magenta (as Usherette)".
The Usherette became known as "Trixie" after the show opened in the US in 1974 at the Roxy Theatre. Played by Jamie Donnelly, the Usherette now had "Hi... I'm Trixie" written across the front of her vending tray. Donnelly has said that she originally based Trixie's look on a waitress that she used to see at Tiny Naylor's, a popular drive-in restaurant on Sunset Blvd. in Hollywood CA, even down to the pink uniform and hairdo.
The logo from from The Rocky Horror Show by Michael English is also often referred to as "Trixie", although it is based on the head of Columbia (as originated by Nell Campbell).
Trixie is considered a personification of the The Lips singing "Science Fiction, Double Feature" during the opening credits of The Rocky Horror Picture Show as the lips shown singing belong to the original Usherette, Patricia Quinn. The performance is open to interpretation. In Audience Participation, "a Trixie number" is usually a dance routine performed by a member of a shadowcast during this portion of the film.