Jeremy Newson
From RockyWiki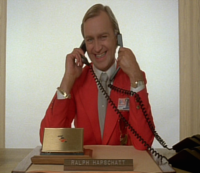 Jeremy Newson (April 7, 1947 - December 16, 2020) was the actor who played the role of Ralph Hapschatt in The Rocky Horror Picture Show and its follow-up, Shock Treatment. He was the only actor to play the same role in both films. Newson had a brief film career as an actor, then switched to producing and directing. He has a long list of credits as a director of educational films and documentaries in the UK, some of which aired in the US on PBS. Newson also had a brief foray into recording, releasing two Country singles "It Gets Me Down" backed with "Because I'm Losing You" on Epic (S EPC 3396) in 1975, followed by "Hi Ho Silver Let's Retire" backed with "The Long Yellow Grass" in 1976, also on Epic (S EPC 4180).
Newson was born in England, but moved with his family to Canada at age 6 where his father became host to a radio program. In 1964 Jeremy left the University of Calgary before graduating in order to run a touring troupe of musicians and then joined a creative writing course at the University of Vancouver. Robert Altman was filming McCabe and Mrs Miller in the city and looking for locals to be in it; Jeremy went for an audition and got a part, with Altman using his languid drawl for many of the intercut voice-overs in the 1971 film.
Newsome moved to England and continued to act on stage as well as perform and write music. He became a television director and documentary producer with much of his work appearing on BBC. He passed away from a neurological disorder in December, 2020.
Filmography
1981: Shock Treatment - Ralph Hapschatt
1979: Yanks - Mechanic
1976: Centre Play (TV Series) - Jeremy
1975: The Rocky Horror Picture Show - Ralph Hapschatt
1971: McCabe & Mrs. Miller - Jeremy Berg

External Links
Jeremy Newson Obituary [1]