Norsk Version
From RockyWiki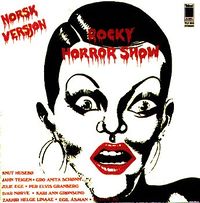 Norsk Version (Norwegian: Norsk Versjon) is the soundtrack LP to the 1977 Norway production of The Rocky Horror Show. At the time of its release, it was the most complete recorded soundtrack featuring all of the songs from the stage show.
Talent Records Catalog Number
TLS 3032
Cast
Knut Husebø - Dr. Frank N Furter
Kari-Ann Grønsund - Janet Weiss
Ivar Nørve - Brad Majors
Jahn Teigen, - Riff Raff
Gro Anita Schønn - Magenta/Usherette
Julie Ege - Columbia
Zakhir Helge Linaae - Rocky Horror
Per Elvis Granberg - Eddie
Egil Åsmån -Dr. Scott
Bjarne Bø - The Narrator
Musical Numbers
"Science Fiction/Dobbeltforestilling"
"Bryllupsangen"
"Alltid Lys Hos Frankenstein"
"En Hip Transvestitt"
"Tiden Blir Skrudd"
"Damoklessverdet"
"Muskellmann-Sangen"
"Eddies Sang"
"Muskellmann-Sangen (Reprise)"
"Ta Meg, Ta Meg"
"Det Hender Iblant"
"Eddies Teddy"
"Planet-Manet"
"Floor Show"
"Fra Først Av Kunne Alt Gå An"
"Jeg Vil Hjem"
"Super-Helter"
"Science Fiction/Dobbeltforestilling (Reprise)"
External Links
The Rocky Horror Show (Norsk Versjon) at RockyMusic [1]