Barry Bostwick
From RockyWiki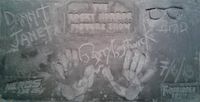 Barry Knapp Bostwick (born February 24, 1945) is an American stage and screen actor.
He is known for playing Brad Majors (A Hero) in The Rocky Horror Picture Show.

Biography
Born in San Mateo, CA, Bostwick attended San Diego's United States International University in 1967, majoring first in music, then acting.
He next attended NYU's Graduate Acting Program, graduating in 1968. His first public performances were in local theater in Foster City (near San Mateo) and also as a circus performer.
In 1970, Bostwick was a member of a pop group called The Klowns, assembled and promoted by Ringling Bros. and Barnum & Bailey Circus, whose members performed wearing stylized clown makeup and costumes. They had one LP, released in 1970, that was produced by Jeff Barry (famous for producing and writing for The Archies) The LP accompanied a TV Movie (that also featured Jerry Lewis and Sammy Davis, Jr.) and generated one single, "Lady Love," which charted at #95 on Billboard 's Hot 100.

At age 22, Bostwick performed in a production of Take Her, She's Mine, followed by a number of non-musical roles Off-Broadway. His Broadway debut came in 1969 in Cock-a-Doodle Dandy, which ran in tandem with Hamlet, in which he was featured as OsricIn. His biggest break came when he was cast as the first Danny Zuko in the Broadway stage production of Grease, for which he was nominated for a Tony Award in 1972. He later won a Tony Award for his leading part in The Robber Bridegroom, in 1977.

His next major role was that of Brad Majors in the 1975 release, The Rocky Horror Picture Show. From there, his career took off with a never-ending stream of performances on both stage and screen.

In 1997, Bostwick was diagnosed with prostate cancer, and had a radical prostatectomy while on hiatus from his then job as a regular on the TV series Spin City in July of that year. He recovered, and also became a public speaker on the subject of early detection, and in 1998 was presented with an American Cancer Society Courage Award by President Clinton for his efforts. In 2004, he won the Gilda Radner Courage Award from the Roswell Park Cancer Institute, as well.

Known to fans as "Uncle Barry," Bostwick has always had a great sense of humor about the role of Brad, and his place in pop-culture as "America's Favorite Asshole." On June 19, 1981, he saw the film with a shadowcast for the first time at the legendary Tiffany Theater. To commemorate the occasion, he gave Brad's Shorts (really!) to the theater. He is very supportive of the Rocky Horror community, and he has appeared at many Rocky Horror conventions and events, occasionally appearing in costume. On July 6, 2018, Barry was honored by the Los Angeles Rocky Horror community by placing Barry Bostwick Handprints in the forecourt of the Vista Theatre.
Filmography
2016: Range 15 - The President
2015: Three Days in August John
2015: Diani & Devine Meet the Apocalypse - The Senator
2015: Slay Belles - Santa
2015: Helen Keller vs. Nightwolves - Jonathan
2015: Inside the Extras Studio (TV Series) - Milt Hamilton
2015: Love Under the Stars (TV Movie) - Walt
2015: Alleluia! The Devil's Carnival - The Watchword
2015: Tales of Halloween
2015: Murder? (TV Mini-Series short) - Barry Bostwick
2015: Haunted Hathaways (TV Series) - Council Member #1
2015: CSI: Crime Scene Investigation (TV Series) - Collin Winthrop
2015: November Rule - Lance
2015: The Scorpion King 4: Quest for Power (Video) - Sorrell
2014: New Girl (TV Series) - Robert
2014: Franklin & Bash (TV Series) - Jacob 'Falcon' Riley
2014: Dragula (Short) - Dragula
2014: Enlisted (TV Series) - Russell
2010-2014: Cougar Town (TV Series) - Roger Frank / Roger
2013: Some Guy Who Kills People - Sheriff
2013: Psych (TV Series) - Roland Armitage
2013-14: Scandal (TV Series) - Jerry Grant
2013: Masters of Sex (TV Series) - Morris
2013: Walking with Francis (Short) - Old Masseo (voice)
2013: Teen Beach Movie (TV Movie) - Big Poppa
2013: The Haunting Of - Himself
2013: Blast Vegas (TV Movie) - Sal
2012-2013: Research (TV Series) - Dr. Rust
2013: Finding Joy - Alan
2012: The New Normal (TV Series) - Marty
2012: Home Run Showdown - Big Al
2007-2012: Phineas and Ferb (TV Series) - Grandpa Clyde / Additional Voices
2012: Underwater (TV Series) - DeCordova
2012: Hot in Cleveland (TV Series) - Hugh
2012: FDR: American Badass! - Franklin Delano Roosevelt
2011: A Little Bit of Laughter (Short) - Charles
2011: Guess Whom (Short) - Bruce
2011: The Selling - Father Jimmy
2011: Some Guy Who Kills People - Sheriff Walt Fuller
2010: Don't Dream It, Be It: The Search for the 35th Anniversary Shadowcast
2010: Glory Daze (TV Series) - Mr. Wilson
2010: 2010 Moby Dick (Video) - Captain Ahab
2010: Glee - "The Rocky Horror Glee Show" - Tim Stanwick
2010: Bedrooms - Roger
2010: Miss Nobody - Father Grisham
2009-2010: 'Til Death (TV Series) - George Von Stuessen
2010: Secrets of the Mountain (TV Movie) - Henry Beecham
2010: The Forgotten (TV Series) - Bill Ramey
2010: It's a Dog Gone Tale: Destiny's Stand - Arlen Hanley
2009: Nip/Tuck (TV Series) - Roger Payne
2009: Ghost Whisperer (TV Series) - Don Sullivan
2009: Hannah Montana: The Movie - Mr. Bradley
2009: Supernatural (TV Series) - Jay
2008: Baggage - Pete Murphy
2008: Ugly Betty (TV Series) - Roger Adams
2008: Depth Charge (TV Movie) - President Taylor
2007: The News (TV Movie) - Harvey Deegan
2007: Nancy Drew - Dashiel Zachary Biedermeyer
2007: Evening - Mr. Wittenborn
2004-2007: Law & Order: Special Victims Unit (TV Series) - Oliver Gates (recurring, 6 episodes)
2007: Love Is a Four Letter Word (TV Movie) - Martin Harper
2006: Three Moons Over Milford (TV Series)
2005-2006: What I Like About You (TV Series) - Jack / Jack Tyler
2006: Spymate - President
2005-2006: Out of Practice (TV Series) - Gavin
2006: The 12th Man (TV Movie) - Pete
2005: Las Vegas (TV Series) - Martin
2005: Cold Case (TV Series) - Roy Brigham Anthony 2005
2004: Chestnut: Hero of Central Park - Thomas Trundle
2004: The Skulls III (Video) - Nathan Lloyd
2004: Spellbound (TV Movie)
2003: Scrubs (TV Series) - Mr. Randolph
2003: Swing - Freddie
2003: Less Than Perfect (TV Series) - Max Damarius
2003: 101 Dalmatians II: Patch's London Adventure (Video) -Thunderbolt (voice)
2003: Baby Bob (TV Series) - Jack Collins
2003: The Afterlife (TV Movie) -Stan Franklin (voice)
2002: She Spies (TV Series) - Governor Gary McNamara
1996-2002: Spin City (TV Series) -Mayor Randall M. Winston Jr. / The Mayor / Randall M. Winston Jr.
2001: Disney's California Adventure TV Special (TV Movie)
2000: 919 Fifth Avenue (TV Movie) - Mr. Lawrence Van Degen
1999: Beggars and Choosers (TV Series)
1998: Men in White (TV Movie) - President Smith
1998: The New Batman Adventures (TV Series) - Irv Kleinman / Bernie Benson
1998: One Hot Summer Night (TV Movie) - Art Brooks
1997: Lexx (TV Series) - Thodin
1996: Lexx: The Dark Zone Stories (TV Mini-Series) - Thodin
1996: A Different Kind of Christmas (TV Movie) - Frank Mallory
1996: The Secret Agent Club - Vincent Scarletti
1996: Spy Hard - Norman Coleman
1995: High Society (TV Series) - Mark Finnegan
1995: Grace Under Fire (TV Series) - Prof. Jack Drayson
1995: The Return of Hunter: Everyone Walks in L.A. (TV Movie) - Matt Sherry
1995: The Secretary (TV Movie) - Eric Bradford
1995: Project: Metalbeast - Miller
1994: In the Heat of Passion II: Unfaithful - Phillip
1994: Once in a Lifetime (TV Movie) - Dr. Matthew Dane
1993: Praying Mantis (TV Movie) - Don McAndrews
1993: Weekend at Bernie's II - Arthur Hummel
1993: Eight Hundred Leagues Down the Amazon - Garral
1993: Between Love and Hate (TV Movie) - Justin Conrad
1993: Das letzte U-Boot (TV Movie) - Captain Hawkins
1992: Russian Holiday - Grant Ames
1992: The Golden Palace (TV Series) - Nick DeCarlo
1991: Captive (TV Movie) - Paul Plunk
1990: Aladdin (TV Movie) - Genie of the Lamp / Genie of the Ring
1990: The Great Air Race (TV Movie) - Roscoe Turner
1990: Challenger (TV Movie) - Comm. Francis R. (Dick) Scobee
1990: Joseph and His Brothers (Video short) - Joseph (voice)
1989: Till We Meet Again (TV Mini-Series) - Terrence 'Mac' McGuire
1989: Parent Trap: Hawaiian Honeymoon (TV Movie) - Jeffrey Wyatt
1988-1989: War and Remembrance (TV Mini-Series) - 'Lady' Aster
1989: Parent Trap III (TV Movie) - Jeffrey Wyatt
1988: Addicted to His Love (TV Movie) - Larry Hogan
1988: Body of Evidence (TV Movie) - Alex Dwyer
1987: I'll Take Manhattan (TV Mini-Series) - Zachary Amberville
1986-1987: Dads (TV Series) - Rick Armstrong
1986: George Washington II: The Forging of a Nation (TV Movie) - George Washington
1986: Pleasures (TV Movie) - Ben Scott
1986: Betrayed by Innocence (TV Movie) - Nick DeLeon
1986: Deadly Nightmares (TV Series) - Tony Lynch 1985: Deceptions (TV Movie) - Grant Roberts
1985: A Woman of Substance (TV Mini-Series) - Maj. Paul McGill
1984: George Washington (TV Mini-Series) - George Washington
1983: An Uncommon Love (TV Movie) - Mr. Kinser
1983: Summer Girl (TV Movie) - Gavin Shelburne
1982: Megaforce- Cmdr. Ace Hunter
1982: American Playhouse (TV Series) - Steelworker
1981: Red Flag: The Ultimate Game (TV Movie) - Maj. Jay Rivers
1981: Foul Play (TV Series) - Tucker Pendleton III / Det. Tucker Pendleton
1981:That's Hollywood - "Cult Classics" - Himself
1980: The Silent Lovers (TV Movie) - John Gilbert
1980: Once Upon a Family (TV Movie) Henry Demerjian
1980: Scruples (TV Mini-Series) - Spider Elliott
1979: Young Guy Christian (TV Movie) - Guy Christian
1979: You Can't Take It with You (TV Movie) - Anthony Kirby, Jr.
1979: Hawaii Five-O (TV Series) - Lucas Sandover
1979: Murder by Natural Causes (TV Movie) - Gil Weston
1978: Movie Movie - Johnny Danko / Dick Cummings
1978: Charlie's Angels (TV Series) - Ted Machlin
1977: The Quinns (TV Movie) Bill Quinn
1977: Razzmatazz (TV Series) - Host (1977-1978)
1975: The Rocky Horror Picture Show - Brad Majors - A Hero
1975: The Wrong Damn Film - Alex Rounder
1974: The Chadwick Family (TV Movie) - Tom McTaggert
1974: Slither (TV Movie) - Dick Kanipsia
1974: Road Movie - Hank
1973: Fantastic Planet - Narrator (English version, voice, uncredited)
1971: Jennifer on My Mind - Nanki
1970: The Klowns (TV Movie)

Stage Productions
1991: Nick & Nora - Nick Charles
1981: Pirates of Penzance- Pirate King
1977 She Loves Me - George Nowack
1976-1977: The Robber Bridegroom - Jamie Lockhart (Won Tony Award, Best Actor in a Musical)
1976: They Knew What They Wanted – Joe (Nominated for Tony Award)
1972: Grease – Danny Zuko (Nominated for Tony Award)
1971: Soon - Kelly
1970: Colette - Leo/ Jacques/ Pierre/ Jean de Jouvenel/ Goudeket
1970: House of Leather
1970: Salvation – Monday
1969: Hamlet – Ghost/Osric/PLayer
1969: Cock-a-Doodle Dandy - Porter/the Cock
1968: The Misanthrope
1968: War and Peace
1967: Take Her, She's Mine

Awards
1989: Golden Globe Award- Best Supporting Actor (Series/Miniseries/TV Film)- War and Remembrance
1977: Tony Award – Best Actor in a Musical
Convention Appearances
Notable Events Attended
2010: RHPS Tribute and Costume Ball (Los Angeles CA)]
2013: Rocky Horror Cast Reunion at The Hollywood Show (Los Angeles CA)
2016: Rocky Horror Cast Reunion at The Hollywood Show (Los Angeles CA)
2018: Barry Bostwick Handprints - (Los Angeles, CA)