Christopher Biggins
From RockyWiki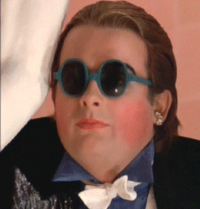 Christopher Biggens is an English actor who appeared as a Transylvanian in The Rocky Horror Picture Show
Biography
Born on December 16, 1948 in Oldham, Lancashire, England, Christopher Biggins is one of the best known faces on English television. He had a long list of credits before he was cast as a Transylvanian in The Rocky Horror Picture Show, and was already well known in England for his recurring role in the sitcom Porridge. The screen and stage roles continued, and he has still has a high profile in England, appearing on several reality competition shows in recent years.
Biggins had seen the original Rocky Horror Show at the Theater Upstairs in London, and was friends with several of the players. He had tried out for Jim Sharman's Jesus Christ Superstar several times, and eventually got a call to be in The Rocky Horror Picture Show as a result.
Author
In 2008, Biggins wrote an autobiography called Just Biggens. Aside from discussing his life as a public figure, he also discusses his life as a gay man, who "came out" later in life, and the cause and effect.
Filmography
2015: Hoff the Record (TV Series) - Christopher Biggins
2014: Catchphrase (TV Series)
2014: Celebrity MasterChef (TV Series)
2012: Run for Your Wife - Bobby Franklin
2010: Celebrity Five Go To (TV Series)
2010: Mongrels (TV Series) - God
2010: What Do Kids Know? (TV Series)
2009: Celebrity Come Dine With Me (TV Series)
2009 Psychoville (TV Series) – Joe/Jelly /Lomax
2007: I'm A Celebrity, Get Me Out Of Here! - Winner
2007: A Bucket o' French & Saunders (TV Series)
2006: The Rocky Horror Tribute Show (Video) - Narrator
2005: Revelations (TV Mini-Series) - Cardinal Laveigh
2003: Life Beyond the Box: Norman Stanley Fletcher (TV Movie) - Lukewarm
2003: Meades Eats (TV Series documentary) - Various Characters
2001: Cold Fish - Roland 'The Agent'
2001: tvSSFBM EHKL (TV Movie documentary) - Quiz Master / Lop Ears / Various Characters
2001: Blow Dry - President of the British Hair Federation (uncredited)
2001: Victoria Died in 1901 and Is Still Alive Today (TV Movie documentary) - Queen Victoria
2000: Circus – Arnie
2000: The Write Stuff
1999: Joseph and the Amazing Technicolor Dreamcoat (Video) - The Baker
1998: Mike & Angelo (TV Series) - Chubby Cheese
1998: Adam's Family Tree (TV Series) - Sid
1997: The Phoenix and the Carpet (TV Mini-Series) - Mr. Tonks
1997: Caught in the Act (Video) - Alfonso (Chef)
1995: French and Saunders (TV Series)
1994: Asterix Conquers America - Lucullus (English version, voice)
1994: Decadence - The Entourage #1
1992: Cluedo (TV Series) - Rev. Green
1991: Woof! (TV Series) - Mr Atkinson
1990: Motormouth (TV Series)
1989: Family Fortunes (TV Series) - Widow Twankey
1989: Terry in Pantoland (TV Movie)
1983-1988: Dramarama (TV Series) - Mr. Tomlin / Arnold / Derek Giles
1987: The Gemini Factor (TV Series) - TV astologer
1984: Aladdin and the Forty Thieves (TV Movie) - Genie of the Lamp
1982-1983: BBC Play of the Month (TV Series) - Lord of the court / Interpreter
1983: Dead on Time (Short) - Bigot
1982: On Safari
1981: Dark Towers (TV Series) - Mr. Benger
1981: Masada (TV Mini-Series) - Albinus
1980-1981: Brendon Chase (TV Series) - Reverend Whiting
1981: Bognor (TV Series) Spencer Nugent
1977-1980: Rentaghost (TV Series) - Adam Painting
1980: Watch This Space (TV Series) - Brian Reeves
1979: Shoestring (TV Series) - Mal Kenrick
1979: Minder (TV Series) - Harold
1979: The Tempest - Stephano, a drunken mariner
1979: Murder at the Wedding (TV Mini-Series) - Clive
1979: Crime and Punishment (TV Mini-Series) - Zossimov
1973-1978: Some Mothers Do 'Ave 'Em (TV Series) - Prewett / Student
1978: The Dancing Princesses (TV Movie) - Otto
1978: Kidnapped (TV Mini-Series) - Prince Charlie
1978: Adventures of a Plumber's Mate - Robin
1977: A Christmas Carol (TV Movie) - Topper
1977: Poldark (TV Series) - Rev. Osborne Whitworth
1977: The Basil Brush Show (TV Series)
1977: It Could Happen to You - Apothecary
1977: Doctor on the Go (TV Series) - Nurse Franklyn
1974-1977: Porridge (TV Series) - Lukewarm
1977: Yes, Honestly (TV Series) - Brian
1976: I, Claudius (TV Mini-Series) - Nero
1976: The Duchess of Duke Street (TV Series) - Nelson
1976: Romeo and Juliet (TV Movie) - Servant to Capulet (uncredited)
1976: The Flight of the Heron (TV Series) - Duke of Cumberland
1975: Whodunnit? (TV Series) - Malcolm Jackson
1975: The Rocky Horror Picture Show - Transylvanian
1975: The Girls of Slender Means (TV Series) - Frank
1975: Eskimo Nell - Jeremy
1974: Doctor at Sea (TV Series) - Steward
1974: The Sex Thief - Porky Prescott
1974: The Fortunes of Nigel (TV Mini-Series) - Sir Ewes Haldimund
1973: Jackanory Playhouse (TV Series) - Prince Arbuthnot
1973: Roberts Robots (TV Series) - Robot Entertainer
1973: Marked Personal (TV Series) - Podge Riley
1973: Doctor in Charge (TV Series) - Mr. Bracknell
1973: Armchair 30 (TV Series) - Flub
1973: 7 of 1 (TV Series) - Sir Laurence
1973: Whatever Happened to the Likely Lads? (TV Series) - Usher / Podge
1972: Upstairs, Downstairs (TV Series) - Mr. Donaldson
1971-1972:The Fenn Street Gang (TV Series) - Man / Hawkins
1972: ITV Sunday Night Theatre (TV Series) - Man #2
1972: Man of Straw (TV Mini-Series) - Delitzsch
1971: Paul Temple (TV Series) - Archie
1971: Doctor at Large (TV Series) -2nd Father

Stage Productions
2010: The Rocky Horror Show – Narrator (UK Toruing Company)
2007: The Rocky Horror Show – Narrator (UK Toruing Company)
2005: Chitty Chitty Bang Bang (London Palladium)
1996: Paint Your Wagon (New Shakespeare Company / Open Air Theatre in Regents Park, London)
1996: The Comedy of Errors (New Shakespeare Company / Open Air Theatre in Regents Park, London)
1996: The Tempest" (New Shakespeare Company / Open Air Theatre in Regents Park, London)
1993: A Connecticut Yankee in King Arthur's Court (New Shakespeare Company / Open Air Theatre in Regents Park, London)
1993: Romeo & Juliet (New Shakespeare Company / Open Air Theatre in Regents Park, London)
1993: The Taming of the Shrew (New Shakespeare Company / Open Air Theatre in Regents Park, London)
1982: The Admirable Bashville (New Shakespeare Company / Open Air Theatre in Regents Park, London)
1982: A Midsummer's Night Dream (New Shakespeare Company / Open Air Theatre in Regents Park, London)
1982: The Taming of the Shrew (New Shakespeare Company / Open Air Theatre in Regents Park, London)
1982: The Dark Lady of the Sonnets (Open Air Theatre in Regents Park in London, England)
1978: A Midsummer's Night Dream - Directed (Open Air Theatre in Regents Park, London, England)
1978: The Dark Lady of The Sonnets - Directed (Open Air Theatre in Regents Park, London, England)
1978: The Man of Destiny - Directed (Open Air Theatre in Regents Park, London, England)
1975: Winnie the Pooh – Lead Pantomime
1972: London Assurance (Royal Shakespeare Company /New Theatre in London)
1971: Henry Vlll (Aldwych Theatre in London)
1965: Le Médecin Malgré Lui - Doctor