Fox Venice Theater
From RockyWiki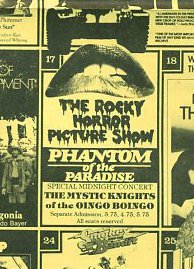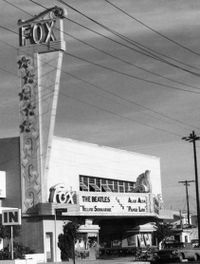 Theater Location: 620 Lincoln Boulevard, Venice, CA
Theater Status: Closed/Repurposed
Cast Affiliations
History
The Fox Venice Theater was an elaborate Art Deco style theater located on Lincoln Blvd in Venice, CA. The cavernous Fox Venice theater had flocked walls, a stage and a big velvet curtain, giving it a very grand, old-time atmosphere. The theater showed standard Hollywood fare until the early 1970s when it became a very popular revival theater, operated for a time by the same company that ran the Nuart Theater in West Los Angeles. In addition to showing movies, the theater also had occasional live concerts and performances. Fox Venice concerts included Jerry Garcia /Legion of Mary (6-14-75), Little Feat, Tom Waits, Cheech and Chong, John Lee Hooker & Canned Heat, Jackson Browne, Oingo Boingo, Richie Havens, and Bonnie Raitt.
The Rocky Horror Picture Show had a private, invitation-only debut at The Fox Venice on September 25, 1975, the night before it's official opening at the UA Westwood. Within a year, The Rocky Horror Picture Show was playing once a month as part of the revival house's regular rotation, often paired with Phantom of the Paradise.
An ever growing audience of regular attendees flocked to the Fox Venice as well as other theaters around Los Angeles to see Rocky Horror. By early 1977, Audience Participation had emerged, and In fall of 1977, The Fox Venice advertised the "Rocky Horror Revue" as part of each screening.
Typical Rocky Horror nights started with a screening at 7PM, followed by "The Rocky Horror Revue" and then the second feature. The Rocky Horror Revue came out again, then a second screening of The Rocky Horror Picture Show for the night (which, early on, was as often on a week night as on a weekend.) Most of the audience stayed for at least both performances of the Revue, and often for two screenings of the movie. As the popularity of Rocky Horror grew, the Fox Venice added more screenings, including Saturdays at Midnight.
In the 1980s it turned briefly into an art house, but is now, sadly, an indoor swap meet. The footprint and marquee remains somewhat intact, though it is just a shell of what it once was. Rumors emerged in late 2015 that the building was being considered to be converted into a House of Blues venue, but plans did not move forward. Post pandemic plans for an updating of the building to mixed-use (office space and retail) were announced on April 26, 2021 including a restoration of the classic facade.
Other Media
The Fox Venice Theater is featured in The Rocky Horror Picture Show Book by Bill Henkin.
Rocky Horror At Fox Venice and The Tiffany Theater[1]
Renovation in the works for Venice's Fox Theater [2]
Cinema Treasures [3]