Tony Then
From RockyWiki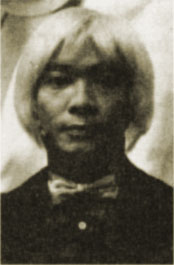 Tony Then (June 16,1944 - December 16,1985) aka: Anthony Then
Asian actor Tony Then is best known as a Transylvanian from The Rocky Horror Picture Show.
Then's parents were avid fans of ballroom dancing, especially the tango. As a child, Then and his five siblings were often asked to perform whenever the family had guests. At the age of 14, Then enrolled in the newly established Singapore Ballet Academy, where his sister Yvonne was also a student. After obtaining a Royal Academy of Dance advanced certificate from the SBA, Then received a scholarship in 1965 to study at London's Rambert School of Ballet. Following his graduation, he toured England with the Scottish Ballet. Then went on to join a number of dance companies in the UK and Europe, followed by small acting roles and modeling, which lead him to his appearance in The Rocky Horror Picture Show.
Then returned to his native Singapore in 1977, and became an accomplished choreographer and dance teacher. In August 1987, Then and his colleague Goh Soo Khim established the Singapore Dance Theatre – the first professional dance company in Singapore.
Sadly, Then died at the Communicable Diseases Center in Singapore, on December 16th of 1995 at age 51 from an undisclosed illness.
Filmography
1978: Gangsters (TV Series) -Triad member
1977: The New Avengers (TV Series) - Tibetan Monk / Monk
1977: Jubilee (TV Series) - Lim Soun
1977: Doctor Who - Lee
1975: The Rocky Horror Picture Show - Transylvanian
1974: The Swordsman - Hock

Choreography
1986: Conflict
1988: Concerto for VII
1990: Motif (with Goh Soo Khim)
1990: Schumann Impressions
1992: The Nutcracker (restaged in 1994)