Julie Covington
From RockyWiki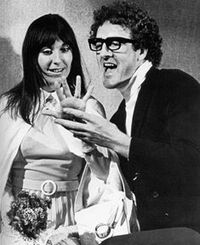 Julie Covington (born 11 September 1946, London) is an English singer and actress who originated the role of
Janet Weiss
in
The Rocky Horror Show
in the original
London Cast
at the
Theater Upstairs
in London.
Julie Covington's first major break came in 1967 when she was invited to sing on David Frost's television show. Although she was still a student at Homerton College, Cambridge, she was offered a recording contract which led her directly to being cast in the 1971 production of Godspell at The Roundhouse. She next appeared as Janet Weiss in The Rocky Horror Show in 1973. Covington left the role quickly, only appearing in a handful of performances before being replaced by Belinda Sinclair, who performed the part on the UK Records soundtrack LP.
Between 1974 and 1984 Covington appeared regularly in the companies of the National Theatre and the Royal Court Theatre, and in 1976, was cast as one of the lead performers in the BBC series Rock Follies - a BBC series based on the Rocky Horror related group Rock Bottom. Her popularity in Rock Follies led to her landing the title role in the original studio recording of the Andrew Lloyd Webber and Tim Rice musical Evita. Covington's performance of "Don't Cry for Me Argentina" became an international hit single and reached No. 1 in the UK Singles Chart in February 1977. That year, she won the Brittania Award for "Best British Female Newcomer," even though she had been performing professionally for well over a decade.

Discography
Solo Albums:
2000: Julie Covington Plus (extended reissue)
1999: The Beautiful Changes Plus' (extended reissue)
1978: Julie Covington
1971: The Beautiful Changes
1969: The Party's Moving On
1967: While The Music Lasts

Singles:
1981: "Housewives' Choice"
1978: "(I Want To See The) Bright Lights"
1977: "Only Women Bleed" b/w "OK?" (with Rula Lenska, Charlotte Cornwell, Sue Jones-Davies of Rock Follies)
1976: "Don't Cry for Me, Argentina"
1973: "Two Worlds Apart" (Demo Only)
1972: "Day By Day"
1971: "The Magic Wasn't There, Tonight Your Love Is Over" b/w "The Way Things Ought To Be"

Cast Recordings:
1992: Guys and Dolls
1991: The Wildcliffe Bird (audio book)
1982: Guys and Dolls National Cast Recording
1978: The War of the Worlds
1977: Rock Follies of '77
1977: The Mermaid Frolics (for Amnesty International Benefit)
1976: Rock Follies
1976: Evita
1975: Hey You! Songs from Play Away
1972: The Adventures of Barry McKenzie
1972: Godspell – Original Cast Recording