Kimi Wong
From RockyWiki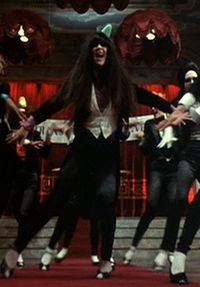 Kimi Wong was born in 1949 in South Africa who appeared as a Transylvanian in The Rocky Horror Picture Show.
At age 19, Kimi Wong traveled to the UK to try out for a part in the English touring company of Hair. She auditioned for David Toguri, and won the role with her rendition of the song "If I Had a Hammer." Richard O'Brien was also part of the cast, and after some time, the pair became a couple. Richard left the show, and Kimi continued in the tour, though she ended up in the London production as Chrissie, and reconnected with Richard. Not long after, Kimi became pregnant. They had a son, Linus, who was born four months after they were wed in December, 1971. After her son was born, Kimi went back to Hair so Richard could stay home with Linus and work on his stage show, They Came From Denton High, which later morphed into the Rocky Horror Show. Around the time The Rocky Horror Show was being staged, the pair began performing as Kimi and Ritz, and recorded a handful of singles together. Kimi was cast as a Transylvanian in The Rocky Horror Picture Show. She also appeared on stage with Richard in his show T. Zee at the Royal Court Theatre in 1976 before giving up performing.
Wong and O'Brien divorced in 1979.