Richard O'Brien
From RockyWiki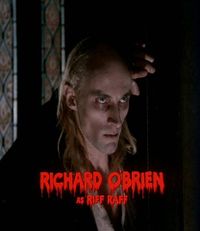 Richard O'Brien is an English actor, television presenter, writer and theatre performer. He wrote the musical The Rocky Horror Show and also co-wrote the screenplay of the film adaptation, The Rocky Horror Picture Show. He originated the role of Riff Raff (A Handyman) in the Original London Cast production and reprised his role in the film. He wrote Shock Treatment and appears as Cosmo McKinley in the film.
Biography
O'Brien was born as Richard Timothy Smith in Cheltenham, Gloucestershire, England on March 25, 1942. His family migrated to Tauranga, New Zealand when he was 10 years old, as his father decided to become a sheep farmer. At 15, Richard enrolled in Agricultural College to placate his parents and to keep himself entertained, Richard spent countless hours in the local cinema in Hamlilton, where he developed a love for film, especially the science fiction ones he saw at many double feature presentations. Over time, he developed a love for Rock 'n' Roll as well, and began writing music and thought about acting.
He returned to England in 1964, working as a handyman, while attempting to break into acting. Because he had learned to ride horses on the farm in New Zealand, he managed to get a part in the 1965 film Carry On Cowboy. At that point, he changed his sir-name to O'Brien, after his maternal grandmother, since there was already a known actor named Richard Smith. He took acting classes, and soon began working backstage at the Cambridge Theatre in London where he eventually landed his first part of note in a 1968 production of Gulliver's Travels at the Mermaid Theatre. In 1970, he joined the UK touring company and later London stage versions of Hair, where he performed alongside Tim Curry, as well as Kimi Wong, who he married in December of 1971. In May of 1972, their son Linus was born. Around that time, the pair also started recording some music to some success under the name of Kimi and Ritz.
In 1972, O'Brien joined director Jim Sharman's stage production of Jesus Christ Superstar as part of the chorus, though he was also the understudy for King Herod. Actor Paul Jabara had the comedic role, and played it very campy. When O'Brien finally had his chance to take over the bigger role, he played it with a Rock 'n' Roll edge, which did not please the management. He was asked to step down after one performance. Rather than go back to the chorus, O'Brien took leave and spent the next year raising his son while Kimi returned to Hair and he began working on his own musical, They Came From Denton High. When O'Brien took a part in another Sharman production, Tooth of Crime, a year later at the Royal Court Theatre, he presented the director with his idea. Now titled Rocky Horroar, it blended his love of Sci-Fi flicks and rock music. Together, Sharman and O'Brien developed it for the stage as The Rocky Horror Show, and it became a wild success.
O'Brien took the role of Riff Raff in the original stage production at the Royal Court in 1973, and continued in the role when the play moved to the Classic Cinema. He reprised the role for the movie rendition in 1975, and then ended up taking the role to Broadway before the film opened when the actor hired fell ill before it debuted at the Belasco Theatre. The Broadway version of Rocky Horror was not as successful as its previous counterparts, and it seemed when the film was first released that the ride was over, though The Rocky Horror Picture Show grew in popularity over time, and became the unrivaled longest running film in movie history.
O'Brien went on to many acting roles on both stage and screen, and he continued to write and perform in number of musicals over time. He attempted to script a Rocky Horror Sequel, though his initial attempts were rejected by 20th Century Fox, who have a stake in any related material. In 1981, he did get a green light for a film that as the continuing story of Brad and Janet from The Rocky Horror Show called Shock Treatment. The film was not well received at the time and faded quietly, though it did develop its own cult following over time.
Although he appeared in many roles over his long career and kept a somewhat high profile, O'Brien experienced main-stream success and became a household name in 1990 for hosting the UK game show The Crystal Maze. Initially joking with the cameraman, O'Brien began talking right into the lens at an early taping. The producers liked what they saw, and it added a layer of excitement to the show which helped made it (and him) a huge success.
In the late '90s, he released a CD of music titled Absolute O'Brien, which featured songs he had written for his stage show Disgracefully Yours. In 1999, to promote the US release of the CD, he appeared at a festival in Santa Monica sponsored by Rhino Records, called Retrofest, where he performed a live, unplugged set of songs from the LP along with a set of Rocky Horror numbers with The Long Beach Rocky Horror cast as back-up.
Richard O'Brien and Kimi Wong had split in 1979, and O'Brien remarried in 1983. Richard and his second wife, Jane Moss, had two children together Joshua and Amelia (born in 1983 and 1989, respectively). They divorced in 2002, when O'Brien needed to spend some time examining his own sexuality. Not considering himself from any mold, O'Brien at one point described himself as "transgender," feeling he was part of both sexes. In 2013, he married his third, and expected life-time mate, Sabrina.
In 2004, Hamilton City Council in New Zealand honored O'Brien with the Riff Raff Statue on the site of the former Embassy Cinema where he had spent countless hours watching double features. In 2011, O'Brien returned to New Zealand and took up permanent residency (after a small kerfuffle over his eligibility to remain.)
Although O'Brien had sold his rights to The Rocky Horror Show, he did make a decent living around it, and more importantly, had opportunities that grew around it. For many years, he appeared at conventions and Rocky Horror related events. He has appeared in a number of Rocky Horror revivals, including a 40th Anniversary production which aired in October of 2015 on The BBC Channel world-wide.
Filmography
2016: Manor Hunt Ball - Uncle Felix
2016: The Stolen - Mr. Russell
2015: Rocky Horror Show Live - Narrator
2007-2014: Phineas and Ferb (TV Series) - Lawrence Fletcher / Additional Voices / Dad
2012: It's Party Time with Richard O'Brien (Hamilton Founders Theatre)
2011: Mongrels (TV Series) - Zombie Dog (voice)
2011: Phineas and Ferb the Movie: Across the 2nd Dimension (TV Movie) - Lawrence Fletcher / Lawrence-2 (voice)
2010: Celebrity Cash in the Attic - Contestant (played for charity)
2010: Jackboots on Whitehall - Himmler (voice)
2009: Night Train - Mrs. Froy
2009: Tales of the Fourth Dimension (Video) - Time Master
2006: The Children's Party at the Palace (TV Special) - The Childcatcher
2006: The Ten Commandments (TV Movie) - Anander
2001: Elvira's Haunted Hills - Lord Vladimere Hellsubus
2000: Dungeons & Dragons - Xilus
2000: The Mumbo Jumbo - Archie
2000: Urban Gothic (TV Series) - Thin Man
1999: The Rocky Interactive Horror Show (Video Game) - The Game Devil
1998: Ever After: A Cinderella Story - Pierre Le Pieu
1998: Dark City - Mr. Hand
1997: Spice World - Damien
1995: The Detectives (TV Series) - Dr Phibes
1994: The Ink Thief (TV Series) - The Ink Thief
1993: The Brit Awards - Host
1993: Full Stretch (TV Series)
1991: Mystery Train (TV Mini-Series) – Host
1990-1993: Crystal Maze - Host
1989: The Wolves of Willoughby Chase - James
1986: Robin Hood (TV Series) - Gulnar
1985: Revolution - Lord Hampton
1983: Digital Dreams (TV Movie) - Butler
1981: That's Hollywood - "Cult Classics" - Himself
1981: Shock Treatment - Dr. Cosmo McKinley
1980: Flash Gordon - Fico
1980: Rushton's Illustrated (TV Series)
1979: The Dick Francis Thriller: The Racing Game (TV Series) - Cowboy
1978: The Odd Job - Batch
1978: Jubilee - John Dee
1977: Premiere (TV Series) - Reporter
1977: ITV Playhouse (TV Series) - Dave Head
1977: The Contraption (Short) - The Man
1975: The Rocky Horror Picture Show - Riff Raff (A Handyman)
1975: Caribe (TV Series) - General Desmond
1972: Four Dimensions of Greta - Balding Hippy
1972: X, Y and Zee - Party Guest (uncredited)
1965: Carry on Cowboy - Rider (uncredited)

Stage Productions
2012: Oliver! – Fagin (Founders Theatre, Hamilton Operatic Society, Hamilton, NZ)
2009: The Stripper - Mr. Arkwright
2008: Pig In Boots – wrote (The Wireless Theatre Company, London)
2005: Snow White and the Seven Dwarves - Spirit of the Mirror (Milton Keynes Theatre)
2000: One God, One Farinelli - the older Farinelli (Battersea Arts Centre, London)
2006: Rocky Horror Show (Royal Court Theatre 50th Anniversary – May 4th)
2001: Chitty Chitty, Bang Bang - The Childcatcher' (London Palladium)
1996: Disgracefully Yours - wrote and performed as Mephisopheles Smith (Comedy Theatre in London / The Bottom Line in New York City)
1999: G.O.4 - Projected Video (Edinburgh Fringe )
1992: Disgracefully Yours (Edinburgh Festival)
1986: The News (City Theatre, London)
1986: Little Shop of Horrors - Mushnick (University Theatre)
1984: Top People - Performed / wrote
1982: The Stripper – performed/composed songs for (Sydney Theatre Company)
1981: Eastward Ho! (Mermaid Theatre, London)
1978: Disaster – Performed / wrote
1976: T. Zee and the Lost Race – Performed / wrote (Royal Court Theatre, London)
1975: And They Used to Star In Movies - Mickey Mouse (Soho Theatre)
1975: The Rocky Horror Show – Riff Raff (Belasco, New York)
1974: Tooth of Crime - Crow (Royal Court)
1973: The Rocky Horror Show – Riff Raff also- Composer, Performer, Writer, Lyricist, Producer (Royal Court Theatre-Theatre Upstairs)
1973: The Unseen Hand - Willie the Space Freak (Royal Court Theatre-Theatre Upstairs)
1972: Jesus Christ Superstar – Apostle and Leper, Understudy for Herod (London)
1970-71: Hair -Woof and others (UK Touring Company/London Production)
1968: Gulliver's Travels – Various (Mermaid Theatre)

Convention Appearances
Awards
1998 S Berlin International Film Festival - Special Teddy