8th Street Playhouse
From RockyWiki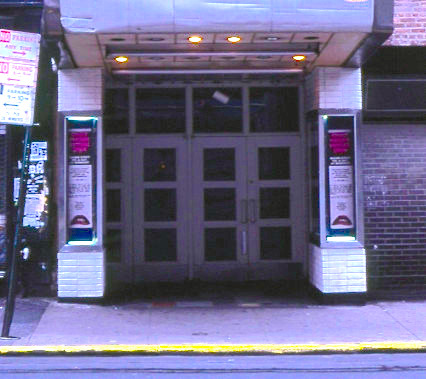 Theater Location: 52 West 8th Street, New York City, NY
Theater Open Date: February 1, 1929
Theater Status: Closed
Cast Affiliations
History
The 8th Street Playhouse was the legendary New York City theater that was one of the first in the country to play The Rocky Horror Picture Show on a regular basis. The movie began at the Greenwich Village theater on Friday, July 21, 1978 and ran until the theater closed in November of 1992.
The 450 seat 8th Street Playhouse was home to the 8th Street Players, which was comprised of several participants who previously frequented the nearby Waverly Theater, where The Rocky Horror Picture Show was introduced as a Midnight movie in New York, in April of 1976.

When the Waverly ceased Rocky Horror screenings, the cast took their act "on the road" to the various other New York theaters looking for a new venue to call home. The group talked the The 8th Street Playhouse into trying out screenings, pointing out that attendance grew when there was a cast present. The theater agreed, and the promise of attendance was kept. The 8th Street Playhouse became the second home of the The Rocky Horror Picture Show Official Fan Club in July of 1978, and was soon one of, if not the most talked about locations for Rocky Horror in the world. The stellar cast, featuring their premiere Dr. Frank-N-Furter, Dori Hartley, and Master Of Ceremonies Sal Piro (President of The Rocky Horror Picture Show Official Fan Club) found themselves the feature of countless news stories in print and on screen. By mid-1979, the 8th Street Playhouse had instituted a pre-sale policy for tickets, regularly reserving as many as 300 seats on advance. 7 seats were regularly saved for the principal cast members.

In 1980, the 8th Street Players were featured in the major motion picture Fame, which helped to ignite the cult in several markets and gave a glimpse of the madness that was going on at the time to mainstream, prime-time audiences. In 1983, the 8th Street Players were recorded for the LP release of Say It! The Rocky Horror Picture Show Audience Participation Album, and are pictured in costume on the inside of the gatefold cover.
Notable Visitors
External Links
The Rocky Horror Picture Show Official Fan Site [1]
Cinema Treasures [2]