Erotic Nightmares
From RockyWiki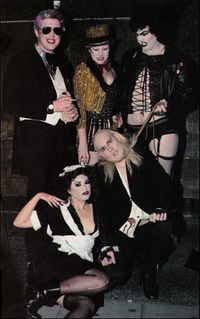 Erotic Nightmares was one of the first regular, full-time Rocky Horror performance groups on the West Coast.
Cast Location: Riverside CA
Cast Facebook: https://www.facebook.com/groups/243291422348756/
Cast Status: Retired
Cast Venues: United Artists Cinema 4 - Tyler Mall
Show Frequency: Every Friday & Saturday
Cast History
Erotic Nightmares was founded in November 1979 by Vid Kadavre, Julie Ford, Richard Gifford, and Troy Martin in Riverside, CA.
Based out of the United Artists Cinema 4 - Tyler Mall, the founding members were all participants in The Riverside Rockys earlier in the year.
Erotic Nightmares performed at many Rocky Horror venues and events in Southern California from November 1979 to February 21, 1981.
Erotic Nightmares were frequent visitors to the Tiffany Theater, the Balboa Theatre, and theaters in Montclair, Orange, and Long Beach, CA.
Their last public appearance together as a cast was on February 21, 1981 at the The Semi-Annual Transylvanian Convention.
Cast Members
Dr. Frank-N-Furter: Vid Kadavre
Janet Weiss: Sherri Johnson
Brad Majors: Kurt Koenig
Riff Raff: Richard Gifford, Matt Patterson
Magenta: Lisa Ciafu, Selina Phanara, Terri Randall
Rocky Horror (A Creation): Patrick Miller, Doug Witt
Eddie: Cindy Okert, Vid Kadavre
Dr. Everett V. Scott: Vid Kadavre
The Criminologist: Troy Martin
Honorary Member: Steve Laybourn Cartoon
Theaters Attended 1979-Present
United Artists Cinema 4 - Tyler Mall, Riverside CA (1979-1981)

Tiffany Theater, West Hollywood CA (1979-1983)

Balboa Theatre, Newport Beach CA (1979)

Montclair Theatre, Montclair CA (1979-1980)

UA City Cinemas 6, Orange CA (1980)
UA Marketplace 6, Long Beach CA (1980)

The Queen Mary, Long Beach CA (2007)

Million Dollar Theatre, Los Angeles CA (2010)

Harmony Gold, Hollywood CA (2011)

Nuart Theater, West Los Angeles (2013-Present)

Conventions Attended
1980: The Second Annual Transylvanian Convention (Hollywood, CA)
1981: The Semi-Annual Transylvanian Convention (Los Angeles, CA)
1981: The Third Annual Transylvanian Convention (Anaheim, CA)
2007: The Pirates of Transylvania (Queen Mary, Long Beach, CA)
2010: 7 Deadly Sins: The Rocky Horror Picture Show 35th Anniversary Convention (Los Angeles, CA)
2013: I Survived the Tiffany Reunion - Tiffany Theater/Canters Deli
Misc. RHPS Performances/Appearances
1980: Velvet Magazine - "Rocky Horror Update"
External Links
Erotic Nightmares [1]
The Rocky Horror Picture Show Official Fan Site [2]