Transylvanians
From RockyWiki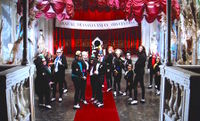 The Transylvanians were the formally-dressed guests in attendance at Frank N Furtur's unveiling of his creature,
Rocky Horror
at the Annual Transylvanian Convention in
The Rocky Horror Picture Show
. Some of them appeared as guests at the wedding of
Ralph Hapschatt
and
Betty Munroe
as well. In the play, there were "
Phantoms
" who served as understudies and the chorus, but were not as elaborate or as important as the iconic supporting players from the film, known as the Transylvanians.
Many of the actors cast to play Transylvanians were connected to the original production or producers of The Rocky Horror Show in London, while others were cast from the Ugly Agency, a British modeling agency that specialized in unusual looking people.
The Transylvanians
Perry Bedden
Christopher Biggins
Gaye Brown — Transylvanian/Wedding Guest
Ishaq Bux
Stephen Calcutt
Hugh Cecil — Transylvanian/Wedding Guest (uncreditied)
Imogen Claire — Transylvanian/Wedding Guest
Tony Cowan
Sadie Corré
Fran Fullenwider
Lindsay Ingram — Transylvanian/Wedding Guest
Peggy Ledger — Transylvanian/Wedding Guest
Annabel Leventon (as Annabelle Leventon)
Anthony Milner — Transylvanian/Wedding Guest
Pamela Obermeyer
Tony Then
Kimi Wong
Henry Woolf
Rufus Collins (uncredited)